Pricing
English Cream Retriever Puppies - $2,000
Blended "Ameropean" Golden Retrievers - $1,500
American Golden Retrievers - $1,200
Deposit - $300
Shipping Charge - $300 - $400
PayPal Handling Fee - 3%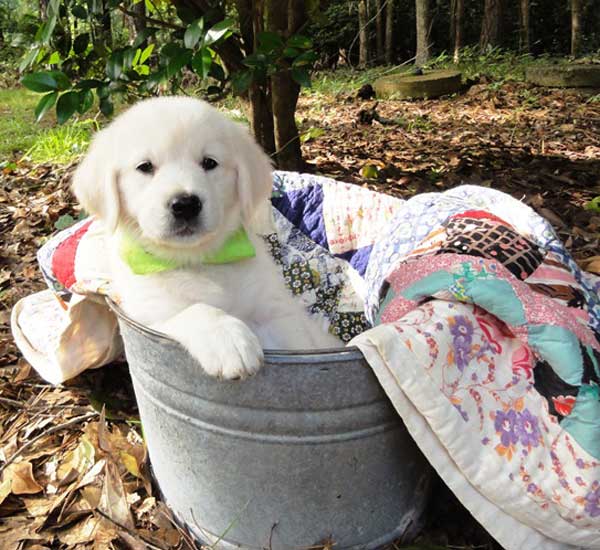 Puppy Application
We require you to fill out a Puppy Application before making a deposit. We will call you to conduct a brief phone interview after we've received your application.
Deposits
There is a $300 deposit to hold a puppy. We take deposits on upcoming litters, and customers with deposits get priority in the selection process on a first-in first-out basis.
Deposit customers are offered the puppy of their choice in the order of deposit after the 6-week old photos are posted. The $300 deposit is not refundable, however it is transferable. You may choose to apply your deposit to a future litter in the event that circumstances prevent your from taking a puppy or there is not one that meets your criteria.
Make a Deposit
We accept Venmo, cash, checks and credit cards for deposit and balance payments.
Credit Card Deposits
Please click on the Buy Now button below. If you don't have a PayPal account, you may still use this payment method to pay using your credit or debit card. Follow instructions after clicking on the link. Please note, a $10 convenience fee has been added to the deposit amount. Please add 3% when making all PayPal Payments
2 Year Health Guarantee
We take great pride in our parent dog selections, and we are confident that they will produce healthy, happy puppies. All of our puppies come with a 2-year genetic health guarantee. We guarantee that your puppy will not have life-threatening, crippling, and/or disabling congenital (genetic) health defects or we'll replace your puppy free of charge.
Included with your Puppy Purchase
2 Year Hip Guarantee against genetic moderate or severe hip dysplasia, and retinal eye disease
Shots & Wormed (appropriate with age)
Dew Claws Removed.
Limited AKC Registration. Full unlimited registration may be considered if certain conditions are met in addition to purchase of breeding rights. Contact us for more information.
Best Breed Puppy Diet Sample
Puppy Packet of great information and a surprise or two.
Lifetime support for you and your new family member from us.
Puppy Delivery
We will deliver your puppy within our delivery area, which is within a 4 hour drive of Terry, MS. The fee for delivery is $.50 per mile one way between your location and Terry, MS. If you live outside of our delivery area, consider driving to the edge of our delivery area. We will meet you there!
Puppy Shipping
We will ship your puppy via air transport anywhere in the Continental United States. The fee for shipping is normally around $300 - $400, which includes the shipping crate, extra vet visits for health certifications and the airfare itself. We will also arrange for ground transportation if you prefer. Price varies by number of miles.